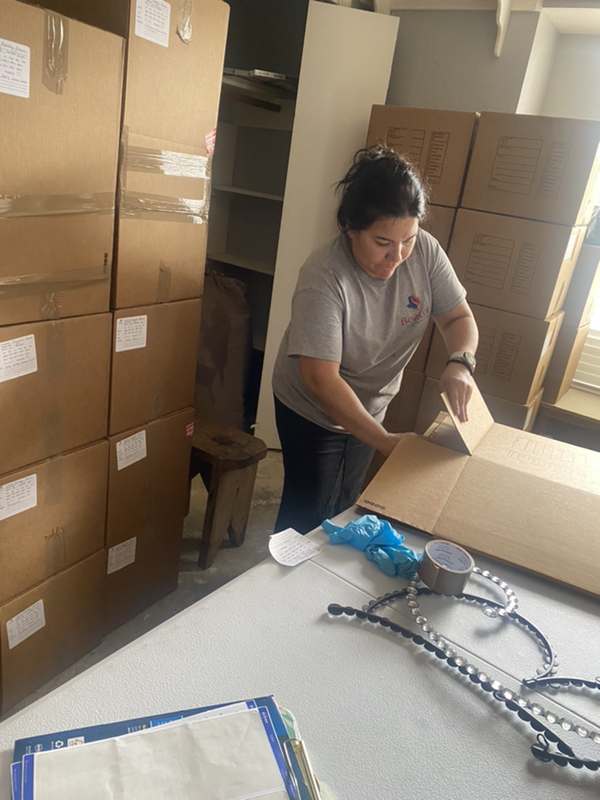 Dealing with the aftermath of a tragedy, such as a house fire, flood, or other calamities, can be highly taxing on your mental health. Plus, the thought of dealing with the mess and restoring your home out of that mess often adds to the stress.
However, restoring your personal belongings is usually the least of your worries amidst the chaos. This is where pack out & content management services become invaluable, providing a sense of security and peace of mind during recovery. Trusting these experts with the painstaking task of packing out, transporting, cleaning, and restoring brings your precious items back to life and can help you focus on rebuilding your life while knowing that your possessions are in capable hands.
This blog post will explore how pack out & content management services, including efficient contents packout service, preserve your peace of mind in challenging times.
Hiring pack-out services in post-disaster settings is crucial for several reasons. We'll look at a couple of them here.
Protecting Your Belongings from Further Damage
During a disaster, swift action is vital to shield belongings from potential secondary damage and minimize losses. Don't let the initial shock overwhelm you; take immediate steps to safeguard what's essential. 
Pack-out services play a vital role in protecting your possessions. Professionals promptly remove and relocate them to a secure facility to prevent additional harm caused by lingering smoke, water, or exposure to harmful elements. 
This proactive approach helps minimize losses and increases the likelihood of successful restoration.
Preserving Sentimental Items
Disasters can impact not only the physical structure of your property but also sentimental items that hold immense value. Family heirlooms, photographs, and personal mementos are irreplaceable treasures. 
Professional pack-out services understand the emotional attachment and significance of these belongings. They employ specialized techniques and expertise to salvage and restore such items whenever possible, offering solace and relief during challenging times.
Efficient and Organized Restoration Process
After a disaster, chaos and confusion can hinder the restoration process. By opting for pack-out services, you streamline the restoration journey. Trained professionals systematically inventory, document, and pack each item, ensuring everything is noticed. 
This meticulous approach creates a comprehensive record, enabling a smooth restoration process. With organized storage and easy access to your belongings, experts can efficiently assess, clean, and restore each item, expediting the recovery of your cherished possessions.
Reducing Stress and Overwhelm
Dealing with the aftermath of a disaster is an emotionally draining experience. The stress of assessing the damage, coordinating repairs, and navigating insurance claims can become overwhelming. 
By enlisting the help of pack-out and restoration professionals, you offload a significant burden. Their expertise and experience allow them to handle the logistics of inventorying, packing, and safely storing your belongings. 
This relieves you of additional stress, allowing you to focus on other essential aspects of recovery and rebuilding.
Expertise in Restoration Techniques
Restoring items after a disaster requires specialized knowledge and skills. Professional pack-out and content restoration services, including expert contents packout service, offer technicians trained in advanced cleaning and restoration techniques. 
They can access state-of-the-art equipment and products specifically designed for various materials and surfaces. From removing smoke odor to repairing water-damaged items, these professionals have the tools and know-how to breathe new life into your possessions.
Understanding the Pack-out Process
The pack-out process involves several key steps.
Systematic Inventory and Documentation with Pack Out & Content Management Services
During the pack-out process, professional technicians employ a systematic approach to inventory and document each item. They carefully catalog and record the condition of your belongings, capturing essential details such as item descriptions, photographs, and any existing damage. 
This meticulous documentation is a reference throughout the restoration process, ensuring that each item receives the necessary attention and care.
Careful Packing and Transportation
Once the inventory is complete, the packing stage begins. Trained experts handle your possessions with the utmost care, utilizing appropriate packing materials and techniques tailored to each item's specific requirements. 
Fragile items are methodically wrapped, cushioned, and secured to prevent further damage during transportation. Professionals employ proper packing methods to mitigate the risk of breakage or harm caused by shifting or impact.
Secure Storage and Restoration Facilities
After packing, your belongings are transported to a specialized facility dedicated to pack-out and content restoration. Technical facilities offer secure storage and optimal conditions for restoration.
Temperature and humidity controls prevent further deterioration, while advanced security systems ensure the safety and integrity of your belongings during the entire restoration period.
Once your belongings are safely stored, the content restoration process begins. Trained technicians employ a range of cleaning techniques and advanced restoration equipment to address the specific needs of each item. 
Specialized methods are used to remove soot, smoke residue, mold, or water damage. From advanced drying techniques to ozone treatment for odor removal, experts employ industry-approved procedures to restore your belongings to their pre-loss condition whenever possible.
Ongoing Communication and Updates
Throughout the contents packout service and restoration process, effective communication is vital. Reputable pack-out services maintain clear lines of communication, providing updates on your belongings. 
They inform you about the restoration timeline, challenges encountered, and steps to mitigate damage. This communication fosters trust and allows you to stay informed.
Working with Professional Pack-out and Content Management Services
When it comes to pack-out and content restoration, it's crucial to partner with a reputable and experienced company. An established contents pack out company will have a team of skilled professionals who understand the intricacies of handling and restoring various belongings. 
They possess the necessary tools, equipment, and knowledge to ensure your possessions are treated with the utmost care and restored to their pre-loss condition whenever possible. These experts employ advanced cleaning and restoration techniques depending on materials, fabrics, and surfaces. 
From electronics and furniture to delicate heirlooms and cherished photographs, professional pack-out and restoration services can handle a wide range of items. 
By leveraging their expertise and cutting-edge technologies, they maximize the chances of salvaging and restoring your beloved possessions.
Preventive Measures to Protect Belongings
While disasters can strike unexpectedly, preventive measures can help safeguard your belongings. Here are a few preventative measures to protect your belongings:
Create a home inventory to document belongings, including photos and descriptions.

Ensure reliable fire alarms and smoke detectors are in place.

Implement and maintain adequate drainage and waterproofing to minimize water infiltration.

Use secure off-site storage or digital backups for important documents to avoid losing important data.

Regularly back up files to external drives or cloud storage.

Store valuable items in fire-resistant safes.

Conduct routine checks for issues and repairs.
Conclusion
The contents packout service and content restoration process serves as a beacon of hope in the aftermath of a disaster. By entrusting your possessions to professional pack-out and restoration services, you can rest assured that your cherished belongings are in capable hands.
These experts possess the skills, experience, and tools necessary to salvage and restore your items whenever possible. Remember, taking preventive measures and working with reputable content restoration services can make all the difference in minimizing loss and ensuring the successful recovery of your belongings.
When disaster strikes, let the experts handle the pack-out and content restoration process while you focus on rebuilding and regaining peace of mind.
Restore and Protect Your Belongings with Beacon Restoration Services
Are you looking to safeguard and restore your belongings after a disaster? Contact Beacon Restoration Services today for professional pack-out and content restoration. Let us provide peace of mind and expert assistance in protecting what matters most. Visit our website and schedule a consultation now!